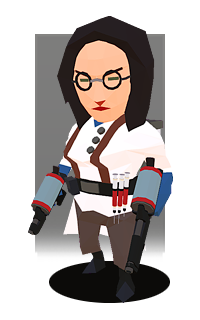 "Quote bla bla bla bla bla bla bla bla
bla bla bla bla
-Sign
Class Description Text
Bio
| | |
| --- | --- |
| Name: | Unknown |
| Role: | Support and Recovery |
| Avatar: | |
| Icon: | |
| Description: | Short Description |
Health
Main Article: Health, Boost, Status
| Condition | Health | Boosted | Berserk |
| --- | --- | --- | --- |
| Standard Medic WhiteSuit | 68 | - | - |
Speed
Main Article: Speed, Status
| Condition | Stamina | Normal | Strafe | Backward | Walking | Sprint | Berserk |
| --- | --- | --- | --- | --- | --- | --- | --- |
| Standard Medic WhiteSuit (no weapon) | - | 4.6 | 4.1 | 3.6 | - | - | - |
| - | - | - | - | - | - | - | - |
Basic Strategy
Main Article: Tips, Medic (C) Strategy
Use your syringe gun to heal your teammates.
Heal syringe can heal a huge amount of HP in short period of time, but you have to be next to your teammates.
Keep alert for teammates calling for your help, especially the ones who use the "Medic!" quick key.
Pay attention to other medics on your team. Keeping multiple medics alive will help keep the rest of your team alive too.
Having too many medics in your team can be a big disadvantage. Change class if you think you have too many doctors!
As a Medic, timing is everything!
Medics do not do well in combat, therefore avoid direct contacts with the enemy.
Stay grouped with your teammates to heal them quickly and efficiently! This also allows your teammates to protect you from any incoming attacks.
Recommendations by users
Equipment
Related Article: Equipment Equipment Points
| Condition | Equipment Points |
| --- | --- |
| Normal | - |
Primary Weapon
Main Article: Weapons
Name
Max Damage
Opt Range
Ammo
Reload Time
Fire Ratio
Recoil Power
Weight
E.P Cost
Note


Syringe Rifle

+12
12.5
12 (4)
2.3
0.18
low+
0.35
-
Type: Light Rifle, Full-Auto
Caliber: 9mm Syringe
Special: Silenced
Secondary Weapon
Main Article: Weapons
Name
Max Damage
Opt Range
Ammo
Reload Time
Fire Ratio
Recoil Power
Weight
E.P Cost
Note


WKusp

22
12
15 (4)
1.6
0.18
low+++
0.2
-
Type: Pistol, Semi-Auto
Caliber: 9mm
Gadgets
Main Article: Gadgets
| Name | Effects | Duration | Type | Range | Uses/Ammo | Use Time | Weight | E.P Cost | Note |
| --- | --- | --- | --- | --- | --- | --- | --- | --- | --- |
| Heal Syringe | Heal 20hp | Instant | Melee Hit | 0.5m | 14 (2) | 0.3s | 0 | - | note |
Suit
Main Article: Suit
Suit Table - TO DO
Equipment Combo
Main Article: Equipment Combo
Equipment Combo Table - TO DO
Equipment Sets
Main Article: Equipment Sets
Equipment Table - TO DO
Taunt
Main Article: Taunt
Taunt Table - TO DO
Achievements
Main Article: Achievements
| Name | Requirements | Description |
| --- | --- | --- |
| Locked | - | - |
| Locked | - | - |
| Locked | - | - |